Matzah Lasagna, Matzagna? - Vegan Friendly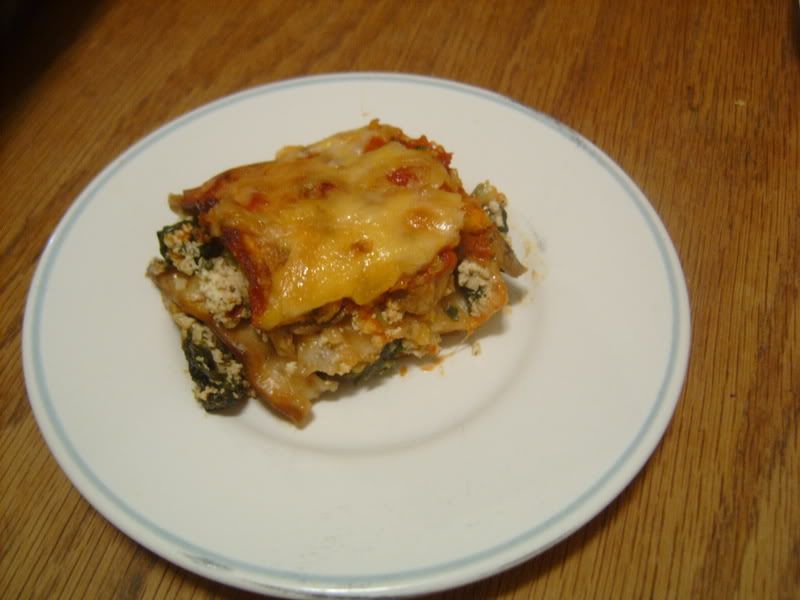 I have two images for you tonight, if I can get them loaded on here. First, our traditional Passover dinner. We eat this each Passover at some point, its a very yummy tradition.
It is simple, and surprisingly faster than regular lasagna.
Matzah Lasagna
Otherwise known as Matzagna
.


6 matzah sheets
1 block tofu
2 cup frozen spinach, thawed
6-8 mushrooms, sliced thinly
1 jar spaghetti sauce
italian seasoning
shredded cheese - optional
You will also need two 10x13 baking dishes, one for the lasagna, one for water.
First mash your tofu into a cottage cheese sized mixture. Squeeze the water out of the spinach and mix with the tofu. Season with the italian seasonings to taste. Fill one baking dish halfway with water. Place two matzah sheets in the water. While that is soaking, put a small amount of spaghetti sauce in the other baking dish to keep the lasagna from sticking. Let the matzah get well moistened on both sides, and then place into the other baking dish. Place half of the tofu mixture and then half of the mushrooms on that. Put a third of the cheese if using, and about a third of the remaining spaghetti sauce, and then moisten two more matzah's. Repeat layers, tofu, mushrooms, cheese sauce one more time. Moisten two remaining matzah sheets, and then cover with remaining sauce and cheese. Bake at 350 for 30-40 minutes or until done.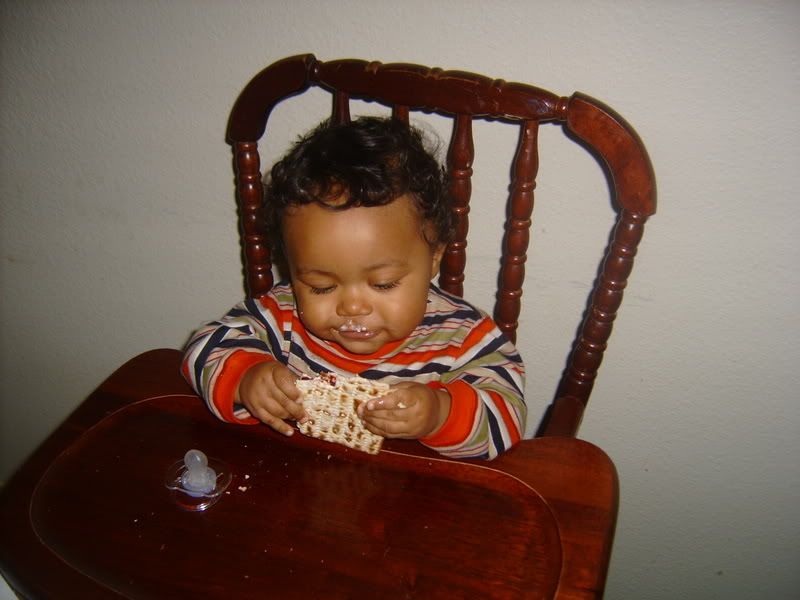 The second image is of Mocha Muffin, enjoying his Cream Cheese and Jelly Matzah sandwich. This is his first experience with Matzah crackers and let me just say, he didn't have to be asked twice. Our friend asked to try some this year, so we brought some to him one day while we were preparing for our congregation's Seder. He pulled one out and Mocha Muffin IMMEDIATELY started asking for some with his hand outstretched! Yep, no doubting his heritage!